Aerosol-Booster AB 250 Special T
Minimum lubrication system for internal feed with highest flow rates
for special machines with up to 16 spindles
oil flow rate up to 250 ml per hour
flexible control of the parameters operating pressure, total flow rate and aerosol ratio
The Aerosol Booster generates an air-liquid mixture with extremely small liquid particles from non-water-miscible lubricants. This aerosol is suitable to be conducted over longer distances in hoses as well as through rotating spindles and tools. The cooling channels of the tools cause a nozzle effect through which the incoming aerosol condenses, i.e. oil and air are separated. This results in precise oil lubrication at the tool.
The integrated aerosol distributor can supply up to 16 tools/spindles simultaneously. Individual aerosol supply lines can be temporarily switched off by additional ball valves.
wear-free and reliable, no moving parts or electronics in the unit
especially suitable for multi-spindle drilling heads
compact design despite the large oil flow rates
suitable for all tool sizes
individual outputs can be switched on/off by ball valves
in combination with our tank extension: automatic refilling during operation with filtered lubricant from central reservoir
Versions
The aerosol booster AB 250 Special T is manufactured application-specific. The variants differ in the maximum oil flow rate, the operating pressure, the number of outputs and the type of control:
| | |
| --- | --- |
| Delivery rate: | as required, max. 250 ml/hour |
| Operating pressure: | up to 6 or up to 10 bar |
| Aerosol outlets: | max. 16 pcs. (individually switchable with additional ball valves) |
| Control: | individual according to customer requirements, see Control options |
Delivery specifications can be taken into account when selecting pressure regulators and solenoid valves.
Control options
The control of the AB 250 Special T is realized customer-specific. Four variants are listed below as examples: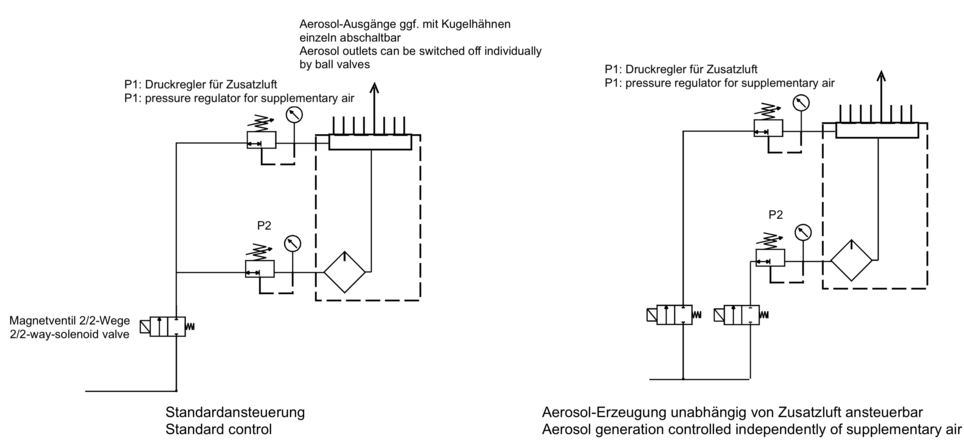 Example 1 and 2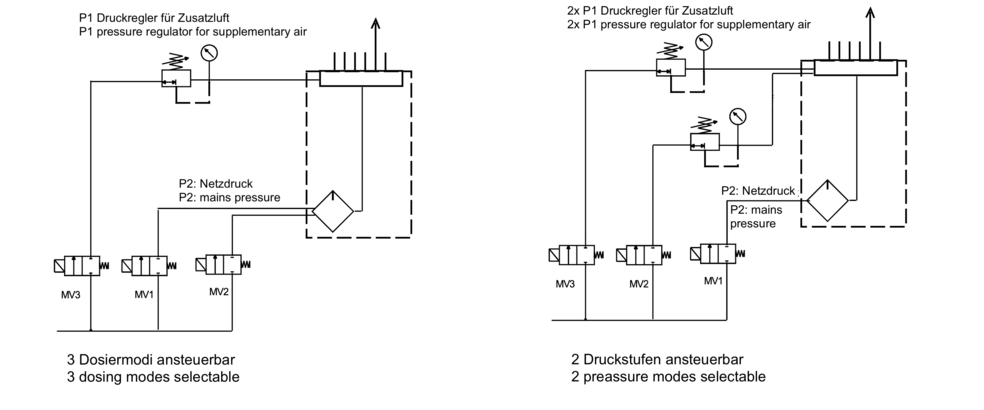 Example 3 and 4
Dimensions
All dimensions in mm.
Technical specifications
Filling volume:
1.8 liters
Unladen weight:
10.0 - 11.0 kg
Control:

- Switching on/off: Solenoid valve (one M function),
- Operating parameters: individual according to customer requirements

Total volume flow:
DN 10
Compressed air supply:
5 - 10 bar; dry and filtered
Aerosol outlet pressure:
0.3 bar up to maximum 85% of the inlet pressure
Accessories
Individual control assemblies consisting of pressure regulator pair and solenoid valve(s)
Pressure monitoring
Level monitoring
Tank extension: automatic refilling from pressurized 10l central storage reservoir
Lockable pressure regulators
Nozzles for external feeding of the aerosol
Ball valves for integration into the aerosol supply line