Aerosol-Booster AB 250 LC
Minimum lubrication system for internal feed with programmable dosing
for machining centers and special machines with one to six spindles
external control of operating pressure, total volume flow and aerosol content for programmable, tool-dependent lubrication
highest flexibility
The Aerosol Booster generates an air-liquid mixture with extremely small liquid particles from non-water-miscible lubricants. This aerosol is suitable to be conducted over longer distances in hoses as well as through rotating spindles and tools. The cooling channels of the tools cause a nozzle effect through which the incoming aerosol condenses, i.e. oil and air are separated. This results in precise oil lubrication at the tool.
Three different aerosol generators are installed in the AB 250 LC, which can be controlled externally by solenoid valves individually or in groups. This enables programmable, tool-dependent lubrication.
wear-free and reliable, no moving parts or electronics in the unit
manual control of the parameters operating pressure, total volume flow and oil dosage for individual tool-dependent lubrication with seven operating modes
external control of the seven operating modes via three solenoid valves, on/off switching of lubrication via a solenoid valve
suitable for all tool sizes
in combination with our tank extension: automatic refilling (of several MQL units) during operation with filtered lubricant from central reservoir
Versions
The Aerosol Booster AB 250 LC is offered in different versions with regard to operating pressure and aerosol outlets:
| | |
| --- | --- |
| Delivery rate: | up to 87 ml/h |
| Operating pressure: | up to 6 or up to 10 bar |
| Aerosol outlets: | 1, 2, 4, 6 (individually switchable with additional ball valves) |
Dimensions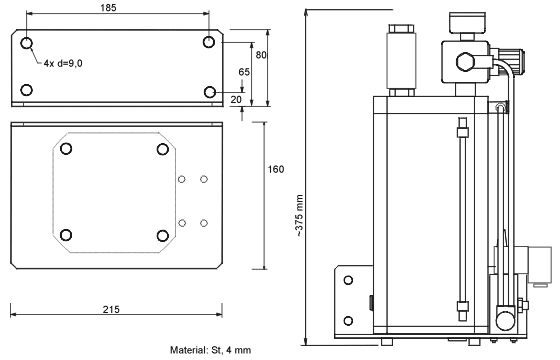 A free space of 300 mm is required above the unit for unobstructed filling. All dimensions in mm.
Connection diagram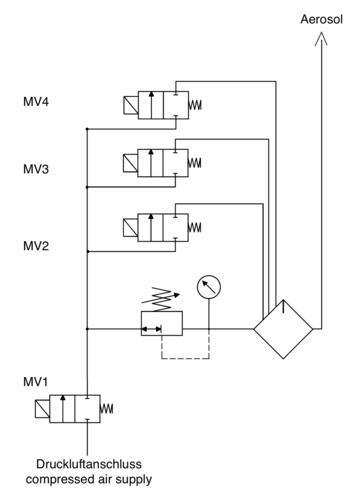 Technical specifications
Filling volume:
1.8 liters
Unladen weight:
8.0 - 9.0 kg
Control:

- Switching on/off: Solenoid valve (one M function),
- Operating parameters: 3 solenoid valves

Total volume flow:
DN 9
Compressed air supply:
5 - 10 bar; dry and filtered
Aerosol outlet pressure:
1.0 bar to maximum 85% of the inlet pressure
Accessories
Pressure monitoring
Level monitoring
Tank extension: automatic refilling from pressurized 10l central storage reservoir
Nozzles for external feeding of the aerosol
Ball valves for integration into the aerosol supply line
Additional ball valve
Integration of a ball valve in the aerosol supply line to the spindle
no pressure drop during tool change
quicker response behavior
temporary switch-off of individual supply lines
Additional blowing air
Separate supply line of aerosol and blowing air to the machine
aerosol and blowing air volume flow can be varied individually
for very large tools
Lockable pressure regulators
Installation of lockable pressure regulators
prevents unnoticed variation of parameters by unauthorized persons
Remotely controllable pressure regulator
Installation of remotely controllable pressure regulators
allows for continuous adjustment of the dosing characteristic curve by the machine control unit
activation of special operating modes for individual tools